Juggling Knives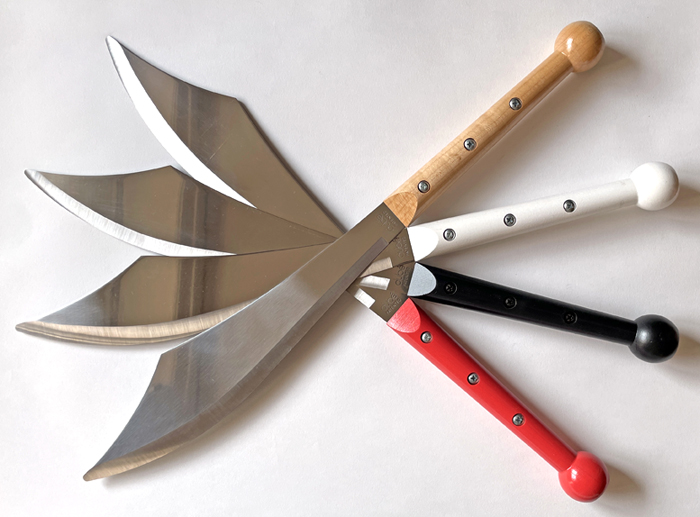 Patented, custom designed and manufactured specifically for juggling with optimal weight and balance. The blades are precision cut from rust/corrosion resistant stainless steel. Solid hardwood handle in black or natural, both with a high gloss lacquer finish. The handle is secured to the blade with custom-made screw and sleeve fasteners, which allows for tightening if necessary or handle replacement. Spherical knob to facilitate juggling and swinging with a flat end for balancing. The cutting edge has been specially ground to appear sharp but is safe for handling. Note: Sheaths sold separately (out of stock)
Colors:
Black or Natural
Length:
50.8 cm (20 in)
Weight:
Approx. 396 gm (14 oz)
No DVDs or Books found.
Corey explains why he loves our Dubé Juggling knives. Thanks Corey!
Dube Juggling knives and rola bola at Disney World Resort, 2008 from Maks.
Peter Prokop's juggling 3 dube knives.
Jim Klimek
has lots of tricks for lots of props: balls, diabolos, european clubs, knives, and torches.
Chase Martinson with this Dubé Juggling Knives, plus some bonus rola bola near the end.
A few tricks with our juggling knives from Rob Patterson.