By Kyle Petersen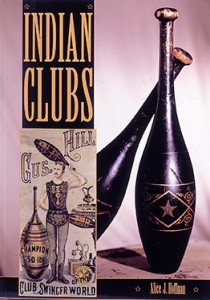 Lovers of object manipulation owe a great debt to the art of Indian club swinging. First developed as a form of strength training, Indian swinging clubs are essentially two long, heavy clubs that are swung in a poi-like fashion. Club swinging became popular with British soldiers stationed in India, and it's popularity quickly spread around the world. One informational pamphlet, published in the carefree days of 1866, praises the benefits of swinging clubs as a form of exercise:
This branch of gymnastics is one we strongly recommend to boys. In using the clubs the chest is expanded, – greater freedom is given in the use of the arms, the muscles of the legs and arms as well as those of the whole body are brought into full use, the wrist is strengthened, the grasp of the hand is made firmer, the circulation of the blood is regulated, and the health in general is greatly improved. If their use is persevered in, they will render the person who practises with them ambidextrous-that is to say, he will be able to use his left arm almost as well as his right in hurling, flinging stones, lifting weights, and similar operations.
Below, you can watch historical footage showing traditional Indian club swinging.

The relationship between club swinging and juggling seems natural. There's some speculation that the Indian swinging club was the inspiration for the modern juggling club. A number of traditional club swinging techniques have been incorporated into modern poi spinning. Many jugglers have embraced the artform, putting their own spin on a historical artform. Anna Jillings writes Modern Club Swinging and Pole Spinning that:
Club swinging was reintroduced to jugglers in America by Michael Moshen and Allan Jacobs. Allan won the US Nationals competition at the 1983 International Juggling Convention with a club swinging and juggling routine, thus inspiring many other jugglers to learn.
Below, you can watch a street performer named Swing demonstrating her club swinging skills on the streets of São Paulo.