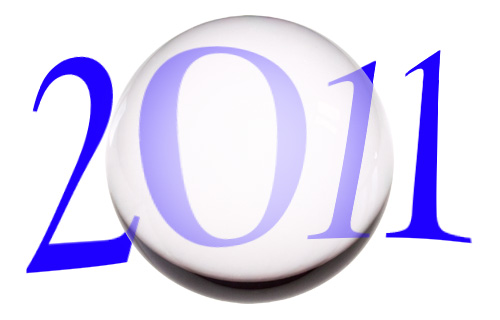 Polishing our acrylic contact ball this morning we saw a blurry light that formed itself into a vision, a vision of the juggling world in 2011. Here is some of what we saw:
— Somewhere a child under the age of 7 is going to flash 12 balls. This event will probably be broadcast on YouTube.
— Teenagers will drop and crack their magic floating balls. A third of those teens will be upset for a moment before returning to video games. Another third of those teens will return the broken ball and get their money back. The last third will go online, complain, discover the meaning of contact juggling, and find their true path
— Jugglers will discover that hoops are meant for more than just dance, but nearly-human sized circles which unlimited manipulation tricks can be incorporated into performances. It's unclear, but hoops may be the prop of the year. We might be misinterpreting hoops for trick roping. It's that unclear.
— You ARE going to be on the cover of Juggle Magazine!
— Gas prices will rise. People will be criticize their elected politicians. The weather will be unpredictable, but the show will go on!
H A P P Y   N E W   Y E A R