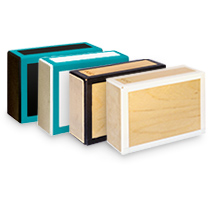 Cigar box manipulation is a vaudevillian throwback. Although we can't say with certainty who first developed the concept of box manipulation, we do know that the art form was pioneered and popularized by the great W.C. Fields around the turn of the century. The first cigar box jugglers used actual cigar boxes (hence the name) which were typically nailed shut. The juggler holds onto two of the boxes and uses them to trap the third box. By turning, tossing, tumbling and flipping the boxes, box jugglers are able to execute a vast array of tricks. Box juggling is a standard part of any gentleman juggler act.
Cigar box juggling reached the peak of its popularity during the height of vaudeville, and suffered a slow decline after the advent of motion pictures. For years the art form had few practitioners until a young man named Kris Kremo burst onto the scene in the 1970s. Kris learned the art of cigar box juggling from his father, Bela Kremo, and the two even performed an act together. Kris is noted for his stage presence, and brought the art of box juggling to a broad audience.
While Kris focused on presentation, former Flying Karamazov Brother Charlie Brown is noted for his technical prowess. Charlie Brown would often perform in jeans and a t-shirt, and was something of a juggling rock star. Charlie's message was clear: box juggling isn't just for the gentleman juggler anymore. Even today, Charlie Brown is considered one of the great technical box jugglers of all time.
Like many juggling disciplines, cigar box juggling is experiencing a resurgence on the internet. Thanks to YouTube, the art form has been able to reach a much wider audience than before, and the level of technical ability has gone up dramatically. Of the current generation of cigar box jugglers, Eric Bates, Ryuhan, Tao Wei and Nick Flair stand out.
Brian Dubé's father started manufacturing wooden boxes in the late 1970's, and the boxes he made are very similar to the ones we sell today.  We started construction of our polyethylene boxes in the 1990's.  Our plastic boxes are super durable, our decorated plastic boxes look outstanding on stage, and our wooden boxes have a traditional look and feel that many jugglers prefer. Stacking boxes are designed specifically for the 9 box pyramid stack.